Cinnamon Sweet Potato Fries
Debbwl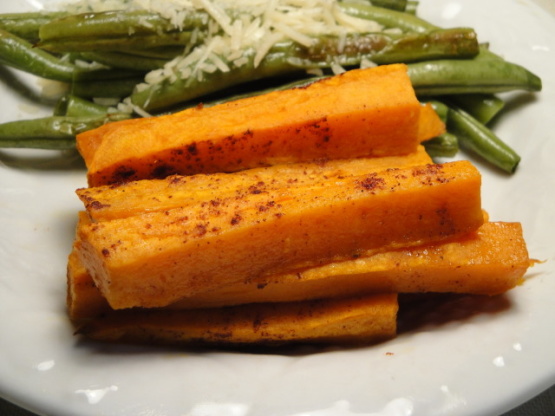 This recipe is based on one by Maya's Mama which I have adapted to our taste. I use Krazy Mixed-up Salt & cinnamon to give these fries extra flavor. Enjoy!

Top Review by WiGal
Definitely 5 star! Our kind of food. DH and I adore cinnamon and sweet potatoes and this is perfect in every respect. Simple, beautiful, healthy, timing is right on, and delicious. I cut sweet potato into 1/2 inch pieces-like a steak fry and did reduce the oil by half-you need some oil so cinnamon has something to stick to. Thank you Acadia for a winner!
Preheat oven to 350 degrees F.
Peel sweet potatoes and then slice into French fry style sticks.
Line a jelly roll pan with a sheet of baker's parchment paper.
Toss sweet potato fries in a bowl with olive oil to coat sweet potatoes.
Lie sweet potato fries on to the parchment paper.
Sprinkle with salt.
Use 1.5 teaspoons worth of cinnamon and sprinkle sweet potato fries.
Bake them for 20 minutes, then turn them over.
Sprinkle salt and remaining cinnamon on the fries.
Bake them for an additional 30 minutes.
Serve and enjoy!