Cinnamon Sugar Toast Strips
flower7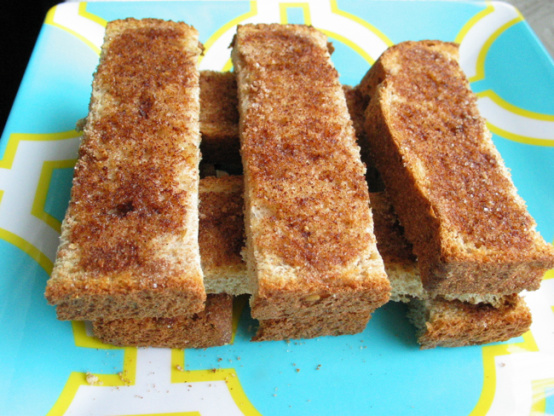 A yummy sweet breakfast or snack for kids or adults! Came from a TOH Quick Cooking magazine.

Made these this morning, and I'm still reeling about how good they were!! This recipe certainly deserves more than 5 stars. This is a 10 star recipe as far as I'm concern. When getting the ingredients ready to make the bread strips, I noticed I needed to use more butter, and I used 7 tablespoons. I then liberally coated each side of the bread with the cinnamon-sugar mixture. I made these in my toaster oven, but had to bake them a bit longer. I set my dial on "toast" and toasted them for 15 minutes, then turned the bread strips over, and continued to toast the bread for another 5 minutes. I found that the 3 slices of bread is the exact amount needed to bake these on your toaster oven baking pan, and this could easily make 4 servings, if need be. I will now be looking for any excuse to make these again. And these would be wonderful to make for any special occasion. jenny_aggie07, I would like to thank you (and Verna Eaton from Taste of Home) for posting this recipe. This is one recipe that belongs in your recipe box, as it definitely is a keeper!!
Preheat oven to 350°F.
In a small bowl combine the sugars, cinnamon and nutmeg.
Place melted butter in another shallow bowl.
Cut each slice of bread into 4 strips.
Dip both sides of bread strip in butter, then sprinkle with sugar mixture.
Place on an ungreased baking sheet.
Bake at 350F for 5-7 minutes or until golden brown.