Cinnamon Streusel Coffee Cake
diner524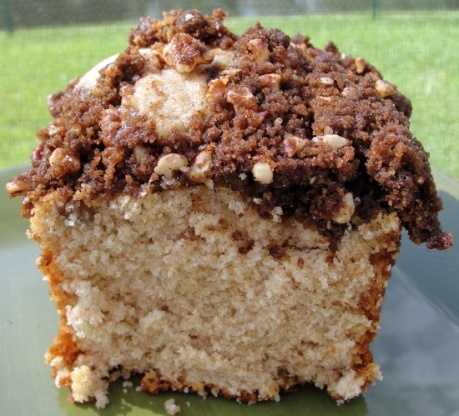 This quick breakfast cake, with buttery cinnamon streusel sinking into the top, has been a holiday and vacation favorite in our family for years. Check out my Banana Chocolate Chip Streusel Cake for a delicious variation. Recipe makes a 9" square pan, and may be doubled for a 9" X 13" pan.

I could not wait to post my review. I just made this. I used a 9inch square pan. Moist and delicious. The amount for the crumb topping gave it the right sweetness. 5 star give it a try it will not disappoint. Question on nutrition count: states serves 4 but a 9 inch you can get 9 servings which definitely lowers the calorie count. But I am not sure how it is calculated. Thank you for a great receipe.
Grease and flour 9" square baking pan. Preheat oven to 350 degrees F. Combine streusel ingredients thoroughly in a small bowl, set aside.
Cream together sugar and butter in a large mixing bowl.
Beat in egg.
Stir in milk.
Sift together dry ingredients, add to mixing bowl. Stir until just combined.
Spread batter in pan, and sprinkle streusel over top. As you are sprinkling, squeeze some streusel together into pebble-sized chunks, and drop them over cake batter.
Bake at 350 degrees F for 25 to 35 minutes, until batter is golden brown and center springs back when touched lightly.
Cool on a rack about 15 minutes before serving.