Cinnamon Streusel Blueberry Muffins (Einstein Bagels!)
AZFoodie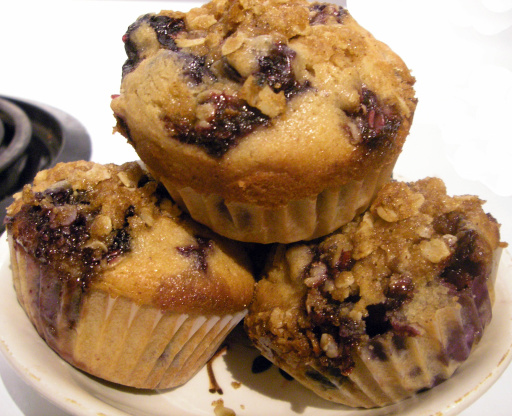 This is truly one of the best blueberry muffins I've ever had. These are just like the Einstein Bagels Blueberry Muffins!

Yummy muffins! I followed what some others did and used less sugar in the batter, probably about 1 cup or so. I do think using the full amount would have been fine though. For the topping instead of white sugar I used brown sugar. They were so fluffy and moist, thanks!!
Preheat oven to 400 degrees F (200 degrees C). Grease a 12-cup muffin pan, or line with muffin liners.
Combine flour, sugar, salt and baking powder. Place vegetable oil into a 2 cup measuring cup; add the egg and enough milk to fill the cup. Mix this with flour mixture. Fold in blueberries. Fill muffin cups right to the top.
To Make Crumb Topping: Mix together sugar, flour, butter, and cinnamon. Mix with fork, and sprinkle evenly over muffins before baking.
Bake for 20 to 25 minutes.