Cinnamon Spiced Fried Tomatoes
Debbwl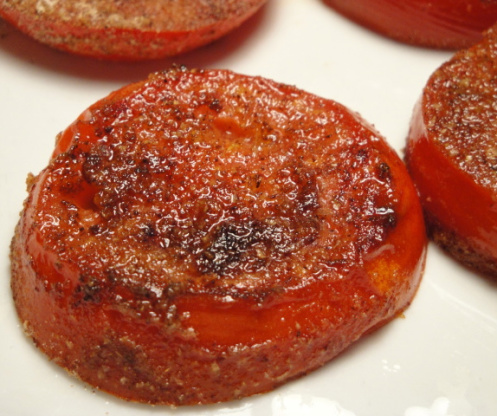 You'll love this exotic departure from the usual fried tomatoes! There is an incredible aroma that fills your kitchen the minute the tomato slices hit the pan! An excellent way to use not quite ripe tomatoes. These are great for breakfast, along with eggs, buttered tortillas, and perhaps Pueblo Style Calabacitas. Adapted from Mollie Katzen's Sunlight Cafe(Breakfast All Day).

My husband brought home three varieties of heirloom tomatoes the other day from the farmer's market and I used them to prepare this recipe. Be sure the tomatoes you use are the best quality you can find. They need to be firm, too. I sliced the tomatoes generously-about 3/4"-1" slices. Don't cook too long or they will quickly turn too soft to hold their shape. Two teaspoons of flour wasn't enough and I probably used closer to 1/3 cup of unbleached flour. This dish reminds me of a North African version of fried green tomatoes and I may try this recipe next time using green tomatoes. Thank you for posting the recipe. It is a contender for the top spot in Best of 2011. Reviewed for Veg Tag/September.
Cut the tomatoes in half and gently squeeze out and discard the seeds. This step is unnecesary if using Roma or plum tomatoes. Cut the tomatoes into thick slices.
Mix the flour, cinnamon, cumin, and salt on a plate. Dredge the tomato slices in this mixture, turning to coat both sides of each piece.
Place a heavy skillet over medium heat for a couple minutes. When skillet is hot, add the oil, wait for about 10 seconds, then swirl to coat the pan.
Fry the coated tomato slices in the hot oil on both sides until crisp, a minute or two on each side. Don't let them burn!
Move the fried tomatoes to a plate and wait for 3-5 miutes before serving, as the juices inside will be very hot. Pass the kosher salt at the table and enjoy!