Cinnamon Shortbread Cookies
PanNan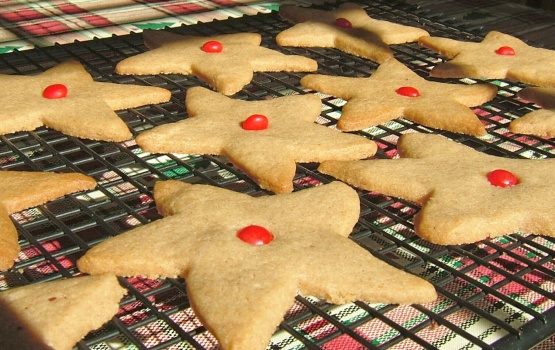 My ex M-I-L had this recipe scribbled on the flyleaf of one of her family cookbooks and no one knew what it was, one year we made it and it was her mom's infamous shortbread cookies. I thought I'd lost the recipe when I divorced, but I found it online (with food processor instructions no less!) and wanted to share. I like bigger cookies so I don't get as many out of the recipe, some friends can get 5 dozen out of theirs. Prep time includes chilling, and it can vary.

A very nice little cookie, if not exciting. Satisfied my taste for cinnamon. My husband loves all types of shortbread, including these cookies. I didn't try to roll out the dough. Instead, after I mixed the dough, I made a log of it, wrapped it in plastic wrap and refrigerated it for several hours. Then I cut slices 1/8 inch thick and baked them.
Preheat oven to 350 degrees; lightly grease baking sheets.
Place flour, cinnamon, and salt in work bowl of food processor; pulse five or six times until blended.
Remove to a small bowl.
Process butter and brown sugar about 30 seconds, scraping down sides once or twice, until light and fluffy.
Add egg yolk and process about 10 seconds to blend.
Add flour mixture and pulse six to eight times, just until blended.
Wrap dough in plastic wrap and chill at least one hour or overnight (Dough may also be frozen up to a month).
Roll out dough, half at a time, to 1/8-inch thick.
Cut with cookie cutter and place cookies two inches apart on baking sheets.
Sprinkle with sugar.
Bake seven to eight minutes until firm and just beginning to darken at edges.
Cool on wire racks.