Katzen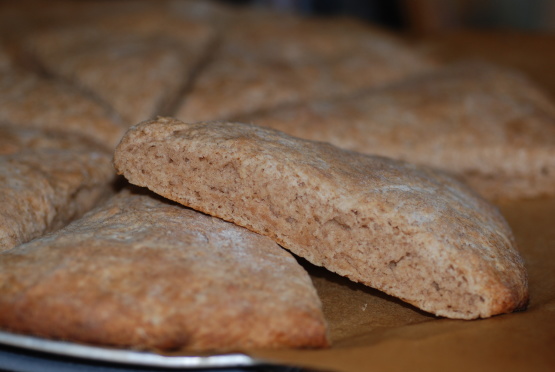 This is a mildly sweet, soft scone that is great for breakfast. NOTE: I tried posting this note way earlier and then I read the review.. the humidity outside greatly affects the moisture of the dough! I've made this on hot rainy days and I end up having to add up to a cup of extra flour. So keep in mind the flour you add may vary greatly, add as needed.

Excellent scones! Made these this morning for my DH and FIL. They both loved them! I followed the recipe to a "T", and sprinkled the scones with some cinnamon sugar before I popped them in the oven. The batter seemed a bit wet, but they turned out great! 20 minutes on the convection setting and they came out beautifully browned on all sides. I floured the parchment paper before putting the scones on the baking sheet, which was a great suggestion. I will definitely be making these again :)
Preheat the oven to 400 degrees F.
Mix the flour, sugar, brown sugar, baking powder, cinnamon, and salt into a bowl.
Mix the butter in with your hands, squeezing it between your fingers. The mixture will be crumbly with some chunks of butter.
In a separate bowl, mix the milk, egg, and vanilla together. Then pour it into the butter mixture and mix until just incorporated.
Put a piece of parchment paper on the cookie sheet. Put the ball of dough in the center, flattening it into a disk approximately 8-9 inches in diameter and 1/2 inch deep. (It may help to put some flour on the cookie sheet to keep it from sticking).
Cut the disk into 8 slices. Separate the pieces on the cookie sheet because they will expand and run into each other.
Bake for 20-23 minutes.