Cinnamon Sauce for Apple Pie

Cinnamon with apple pie is as American as the pie itself. When my mom makes an apple pie or cobbler, this sauce is like the ice cream--you're SUPPOSED to have this with it at my house. My pop can take it or leave it, but if I had to choose the ice cream or this, buh-bye ice cream!! I can eat this with a spoon, straight from the saucepot. Did I mention I'm a sauce freak?? LOL! Sometimes, I make it just to eat and I always have everything on hand. It's also good on vanilla ice cream, but I prefer the pie. I have been known to request this just because. GOTTA LOVE SAUCES of ANY KIND!
Directions
Combine the sugar and flour in a small bowl.
In a small saucepan, stir together the sugar mix into the milk. Cook until thick.
Remove from heat and add the vanilla, butter, and cinnamon.
Use as desired. Leftovers keep well, covered, in the refrigerator. When reheating in the microwave, do it very low and very slow, stirring frequently to prevent clumping and curdling.
Reviews
Most Helpful
This didn't turn out for me either. My end product was, dissapointingly, pretty thin. For my liking, it needed less liquid. Using heavy cream rather than milk may also yield richer results.

This sauce didn't turn out for me at all, I tried doing it a 2nd time last night and I got the same results. I've made sauces before so I know what I am doing. I know for a fact that I won't even try to make this recipe again. Melody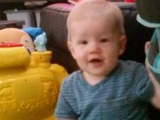 I just love your recipes! This is low in cals and tastes great on everything from Ice Cream to Waffles. I even used Smart Balance butter (reduced cal) and would do it again for certain.