RogerOH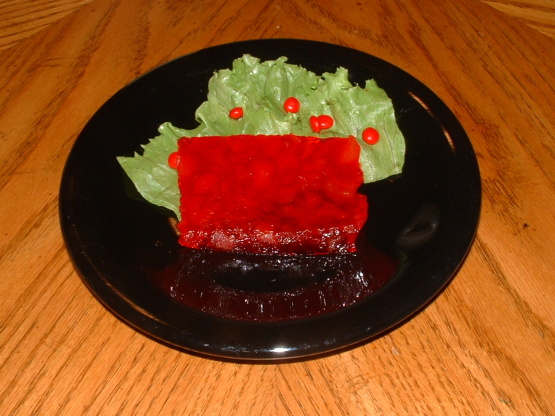 This is my grandmother's recipe. This salad is present at every holiday meal or special occasion. It is a great treat any time of the year.

Made this as part of PAC. Was a little worried about the Cinnamon Strawberry combination, but it turned great. I used chunky applesauce and it gave the salad a nice texture. Great tasteing and will make again. Edited 9/27/06: Originally gave 4 stars. Made again with regular applesauce. Much improved flavor over the chunky applesauce version. 5 stars
Bring water to a boil in saucepan.
Add red hots to water and stir until candies are dissolved.
Remove water from heat.
Add both packages of jello and stir until completely dissolved.
Add strained applesauce and mix well.
transfer mixture to bowl, 9 x 13 baking dish, or jello mold.
Refrigerate until jello is well set (4 hours).