Cinnamon Rolls With Cream Cheese Frosting
diner524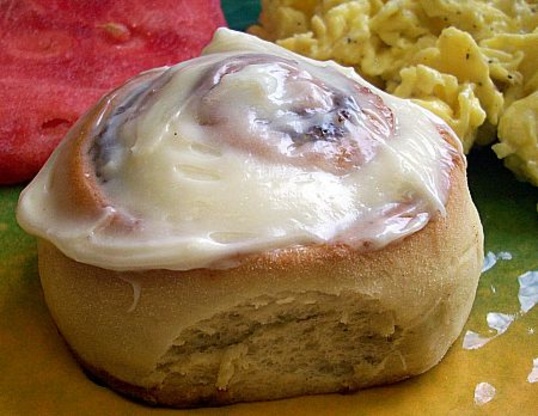 These delicious rolls are very easy to make because your bread machine does all of the hard work. They are best when served warm, and reheat well (if they last that long). Preparation time is approximate as "dough" cycle times vary with different bread machines.

Five stars! I followed the recipe just as written. Using the bread machine to make the dough makes it SO easy. My husband said he would have given it 4 stars because he thought the frosting was too much and he could only eat two at one time instead of three or four. I say there is no such thing as too much frosting. Both my kids enjoyed them, and I thought they were wonderful. This one goes in the tried and true file!
In bread machine pan, place dough ingredients in order suggested by the manufacturer. Select "dough" setting on the bread machine. Check dough after 5 minutes of mixing and add water or flour if needed, a Tablespoon at a time.
When cycle is completed, turn dough onto a lightly floured surface. Let dough rest 10 minutes. Mix brown sugar and cinnamon together in a small bowl. Roll dough into a 20x10-inch rectangle. Spread with 3 Tablespoons butter; sprinkle with brown sugar/cinnamon mixture. Roll up jelly-roll style, starting with the long side; pinch the seam to seal. Cut into 20 1-inch thick slices. Place 12 slices, cut side down, into a greased 9x13-inch pan, and the remaining 9 slices in a greased 7x11-inch pan. Cover and let rise in a warm place until doubled, about 45 minutes.
Bake in a 350°F oven for approximately 20 minutes or until golden brown. Cool on a wire rack for 5 minutes before frosting.
In a mixing bowl, beat frosting ingredients until well mixed. Frost warm rolls. Remove rolls from pans and store in refrigerator.
NOTE: The use of the delay timer is not recommended for this recipe.