Baby Kato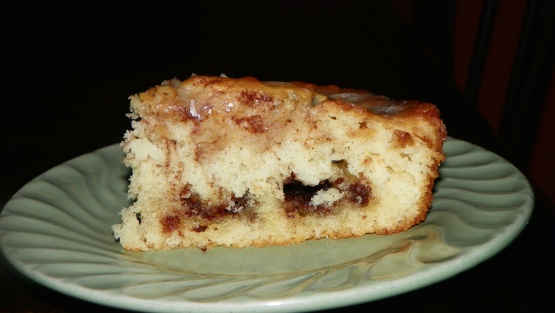 A quick little cake to make that taste like cinnamon rolls. Found it on Facebook of all places and wanted to save it after i had tried it.

So delicious! This cake was particularly easy to make and the directions were pretty straight forward. I followed the recipe exactly and the only thing I would change, is to add more icing, delicious! ;) I did swirl the topping quite a bit to make sure it was evenly distributed, as the mixture doesn't fully allow for that. i am not a sweets person, but this will a treat I will make often! Thank you for this recipe to be used for years to come! :)
In a large bowl, mix all the ingredients together except for the butter.
Once mixed; slowly pour in the butter stiring it into batter.
Pour into a greased 9x13 pan.
For the topping, mix all the ingredients together until well combined.
Drop evenly over the batter and swirl with a knife.
Bake at 350 for 30-40 minutes.
While the cake is warm ~ drizzle the glaze over the cake.