loof751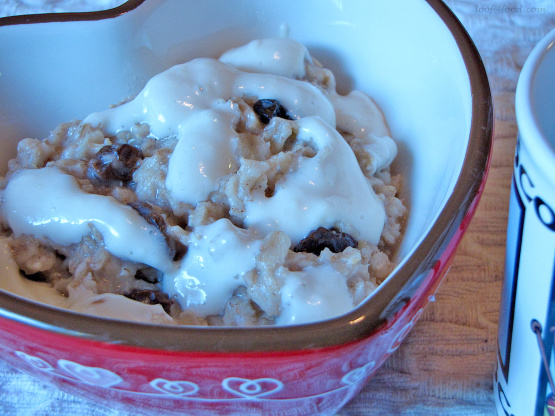 This is my version. I like my oatmeal thicker so I add a little more.

This is fantastic oatmeal! It really does have a wonderful cinnamon-roll flavor. I think the water and oatmeal measurements might be backwards - I used 1 3/4 c water and 1 c oatmeal and it was perfect. The butter added a nice richness and I just loved the topping. It seems like a lot at first but it works because the oatmeal itself is not at all sweet. Really loved this - it's a keeper - thanks for sharing! Made for My3Chefs 2013
add cinnamon to water add raisins
bring to a boil
add oats
Cook oatmeal. stirring alot
add butter and walnuts at end of cooking
Mix topping, adding milk 1 tablespoon at a time until loose but not runny.
Put on top of oatmeal.
I saw others do a swirl but I am not that fancy.
Ok for picture I tried with ziploc baggie sort of lol.