Cinnamon Rice Pudding Mix
CarolAT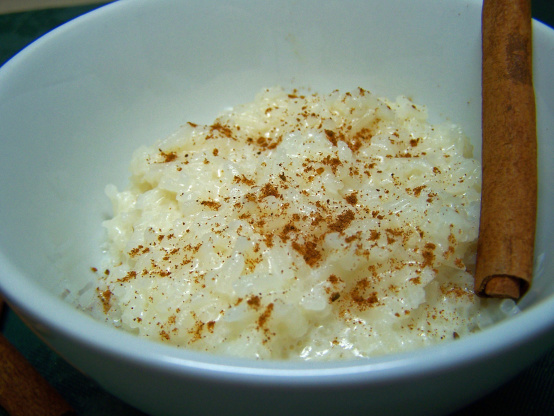 I am making menu baskets for Christmas this year and was looking for a dessert that could be made from a mix. The recipe is courtesy of USA Rice Federation. It goes together quickly and was just what I was looking for. The cooking time and serving size are for the finished product, not the mix.

This was a winner before I started as cinnamon is one of my favorite things. I used short grain brown rice and an extra 2/3 cup of milk (could have been a cup but actually it's great as is too). As I knew that it would take longer than the recipe states with the brown rice so I put it in the oven to bake @325 F for an hr and 20 mins. For the milk I used 1 can of fat free evap and made up the rest with skim milk. The slow cooking in the oven and canned milk gave it a lovely caramelizing that was ideal with the cinnamon and vanillin, I have to be honest and mention that I didn't use any butter at all and I didn't miss it. Splenda was subbed for the sugar. Thanks Paula for a recipe that not only accepted my subs but turned out a wonderful treat! Made for Photo Tag
To make the pudding mix: Place 1 cup of rice in a zip lock bag and seal.
In another bag, place the sugar, cinnamon sticks, salt and powdered vanilla; with a ribbon tie the 2 bags together, label and attach a gift tag with the following directions.
In a medium size pan; bring the rice, water and 1 tablespoon butter to a boil; stirring once or twice.
Reduce heat; cover and simmer for 15 minutes or until rice in tender and liquid absorbed.
To the cooked rice, add 3 cups milk, 1/4 cup butter and spice packet.
Cook over medium heat until thick and creamy, approximately 20 to 25 minutes, stirring frequenlty.
Remove from heat; remove cinnamon sticks.
The pudding can be served warm, room temperature or cold, top with a sprinkling of cinnamon sugar if desired.