Cinnamon "red Hots" Pineapples
Gidg9088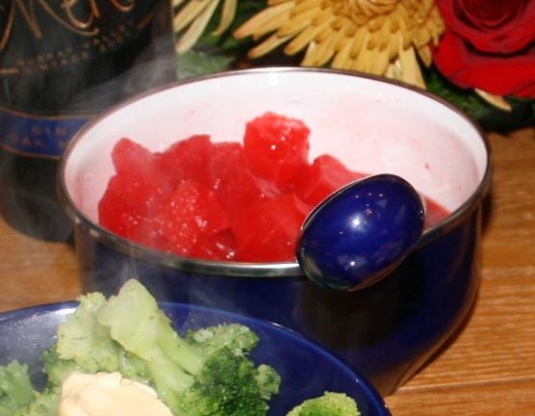 This is an amazing looking and tasting dish. It tastes exactly as the name says! Kids absolutely love it because of the Red Hots flavor and the fact that it's made with candy! It goes with just about everything, but I like to make it at the holidays. I also make it and put it into small mason jars to give away as gifts. My sister-in-law loved hers so much she decided to use the liquid as the base for a Pineapple/Red Hots Martini. She also puts some of the fruit on a toothpick as a garnish. Obviously, for adults only on that one! Recipe note: 1. Buy the pineapple chunks (not rings or pieces) in juice (not heavy syrup.) 2. I buy the cinnamon imperials by the bag, 2 for $3, in the grocery store candy isle but I have since seen it at the local dollar store so shop around. 3. This is a make-ahead recipe. It usually takes 5-7 days for the red liquid to saturate the pineapples. They are ready when the red goes all the through the pineapple chunk.
Open the can of pineapples and drain the juice into a saucepan.
Empty the remaining pineapples in the can into a mason jar or heatproof sealable container.
Empty the bag of cinnamon imperials into the saucepan as well.
Heat on low until the candy has dissolved into the pineapple juice, stirring often. Be patient, this step takes time, don't rush it.
Pour the hot pineapple juice/cinnamon imperial liquid over the pineapples and seal the container.
Put the container in the refrigerator for 5-7 days (or however long it takes the liquid to saturate the pineapple chunks thoroughly.).
Serve cold or at room temperature.
Enjoy!