Cinnamon-Raisin Bread Pudding
Mandy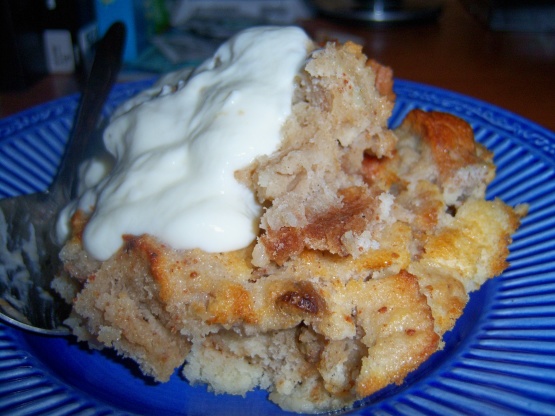 I love bread pudding and it doesn't get much easier than this one. Only 3 ingredients!

Okay...I only had a half of loaf of crappy dry homemade cinnamon bread. I only had INSTANT pudding. I just went ahead and made a half recipe [3 cups skim milk-1 box instant vanilla pudding and a half loaf of crappy cinnamon bread] and put the pile of soaked bread into a greased, glass square 8 X 8 pan instead! Pour the pudding mixture over all of it. I only baked it for 30 minutes and then put into the fridge to "set". Man...heaven!
1

(1 lb) cinnamon-raisin bread, loaf, cut into 1-inch dice

6

cups milk

2

(3 ounce) boxes vanilla pudding mix (cook-and-serve)
Heat oven to 350.
Toss bread with 2 cups of the milk in 13x9x2-inch baking dish. Let stand 10 minutes.
Meanwhile, in separate bowl, mix together the remaining milk and pudding until smooth. Pour over soaked bread; toss lightly.
Bake in 350 oven for 1 hour or until browned and almost set in middle. Cool on wire rack for at least 15 minutes before serving. Serve warm or chilled.