Annacia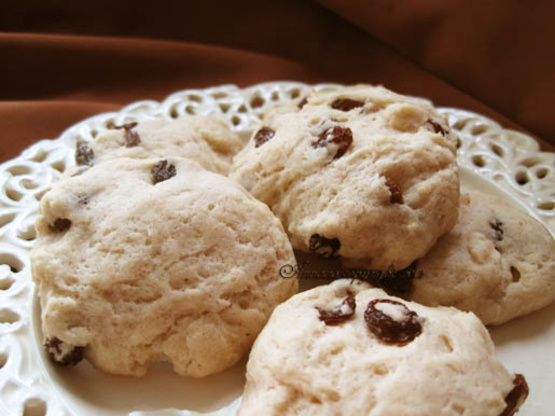 This is out of Taste of Home's Healthy Cooking Magazine. Submitted by Hanna Barringer of Loudon, Tennesse. "These scone-like snacks are equally good out of the oven or at room temperature!"

Great tasting cookies. I have non-stick baking sheets and I'd recommend to anyone else you does not to use the cooking spray. I baked @415f and at 8 mins smoke came out of the oven when I checked on the cookies. They were ok but the spray on oil was well burnt and smoking like a stack. If you don't have non-stick sheets I'd use parchment paper on the sheet without oil. The recipe is very easy and quick to make and you don't need to drag out the mixer, yay. :D
In a large bowl, combine the four, baking powder, salt, cinnamon, and nutmeg. In a small bowl, combine the milk, oil, and honey; add to the dry ingredients and stir just until moistened. Stir in raisins.
Drop by tablespoonfuls onto baking sheets coated with cooking spray. Bake at 425 degrees for 8-10 minutes or until lightly browned. Remove to wire racks.