Mercy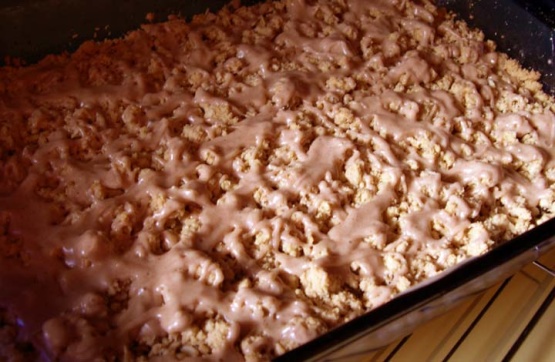 Soft, plump raisins layered in a crispy crunchy crust and drizzled with sweet cinnamon icing. My Mom made these yummy bars often over the years. They are absolutely delicious and deceptively easy! Craisins and/or golden raisins make great additions to the standard raisin filling.

An enjoyable recipe indeed! Made this for my Housewarming and got rave reviews. Some compared it to a date square. I think the raisins are a great alternative to dates!
Combine the raisin filling ingredients in a saucepan and heat over medium heat until the raisins are plump and the liquid has almost completely evaporated (about 10 minutes).
While the raisin filling is heating, cream the butter and brown sugar together, mix in the dry ingredients and 1 tablespoon of water (it will be very crumbly).
Press half of the mixture (about 2 cups) firmly into the bottom of a greased 9"x13" pan and spread with the raisin filling.
Mix 1 tablespoon of water with the remaining crumbs and scatter over the raisin filling.
Bake at 350°F for 35 minutes and then cool slightly.
Mix together the cinnamon icing, adding enough milk to make a drizzling consistency, drizzle over the top and cut into squares.