lsonntag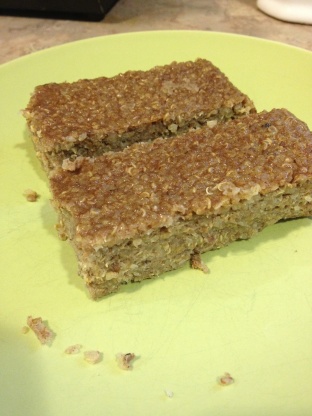 Found this on pinterest & I am making it as I write this...hoping it will be a snack/breakfast bar the kids will enjoy.

I didn't use parchment paper, and I used cow's milk instead of vanilla soy. They have a pleasant taste but don't stick together terribly well. Probably won't make again.
1. Preheat the oven to 375ºF and place the quinoa in a large mixing bowl. Line an 8-by-8-inch baking pan with lightly greased parchment.
2. In a small bowl, whisk together eggs, soy milk, vanilla extract, and cinnamon until thoroughly combined. Add maple syrup (if using) and whisk.
3. Add egg mixture to cooked and cooled quinoa. Stir with a large spoon to combine. Pour into the parchment-lined baking dish and spread it around to ensure that it's even.
4. Bake for 20 to 25 minutes until set and golden.
5. Using parchment, remove bake from pan as soon as possible so that it doesn't steam.
6. Cool completely and cut into squares. Serve with a dollop of nut butter.