My family loves cinnamon, so when i saw this recipe on another site I had to try it. It is fantastic. From allrecipes.com.
Directions
Preheat oven to 350 degrees F (175 degrees C). Grease one 9x5 inch loaf pan.
Measure flour, 1 cup sugar, baking powder, baking soda, 1 1/2 teaspoons cinnamon, salt, buttermilk, oil, eggs and vanilla into large mixing bowl. Beat 3 minutes. Pour into prepared loaf pan. Smooth top.
Combine 2 tablespoons white sugar, 1 teaspoon cinnamon and butter, mixing until crumbly. Sprinkle topping over smoothed batter. Using knife, cut in a light swirling motion to give a marbled effect.
Bake for about 50 minutes. Test with toothpick. When inserted it should come out clean. Remove bread from pan to rack to cool.
Reviews
Most Helpful
This was a nice, easy recipe to make and that full of cinnamon flavor. However, the bread did sink in the middle so that, when I sliced it, some slices had holes in the center. Also, the cinnamon did not real swirl, but more or less spread throughout the batter. Still, the flavor was great and a pleasure for cinnamon lovers.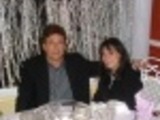 Easy, easy, easy, and this bread bakes up beautifully. I was beginning to question my baking abilities lately as nothing came out right. This bread however, gave a boost to my confidence. I went heavy handed on the cinnamon and otherwise followed the directions. My bread didn't have a struesel but rather a ribbon of cinnamon in the middle. Great with coffee- this one is a keeper!

I needed to use up some buttermilk and I love cinnamon and quick breads so this seemed like the perfect solution. I love intense flavors so I think that next time I will increase the cinnamon even more. I'm sure this would be easy to double so that you could have a loaf now and a loaf later :)