Cinnamon-Pumpkin Empanadas ( Empanadas De Calabazas)
Sonya C.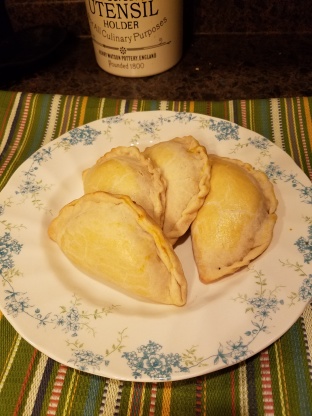 From Esperanza's Cafe (Joe T. Garcia's Bakery), Fort Worth courtesy of Texas Monthly magazine.

No one had posted a picture of this recipe yet and I wondered why. Well, probably because they were gone as soon as they came out. I was quick to snap a photo before they were devoured! Very delicious. I added a couple of steps: 1.) The recipe did not indicate if the bread was suppose to rise (it had yeast) so I let it rise about 45 mins. 2.) I used pumpkin pie mix instead of the pumpkin filling because pumpkin pie mix already has most of the ingredients called for and tastes just as good. 3.) I brushed my empanadas with an egg wash before baking. This gave it a beautiful shine. Next time a will also try a pinnaple filling. Thanks for posting this recipe!
For the filling: Mix ingredients together and set aside.
Preheat oven to 350 degrees.
Combine water, sugar, salt, yeast, baking powder, and cinnamon.
Using an electric mixer, gradually blend in half of the flour.
Add shortening and thoroughly mix, then gradually blend in remaining flour.
Divide dough into 4 equal parts, then shape each of those parts into 4 dough balls.
Slap the dough balls between the palms of your well-floured hands until somewhat flattened, then roll out on a floured surface into circles approximately 4 inches in diameter and 1/8-inch thick.
Put about 1 1/2 tablespoons of pumpkin filling in the center of each circle, fold over, and seal edges by moistening slightly and pressing lightly with a fork on both sides.
Bake on a greased cookie sheet until golden brown, 18 to 20 minutes (watch carefully as they can burn quickly).