loof751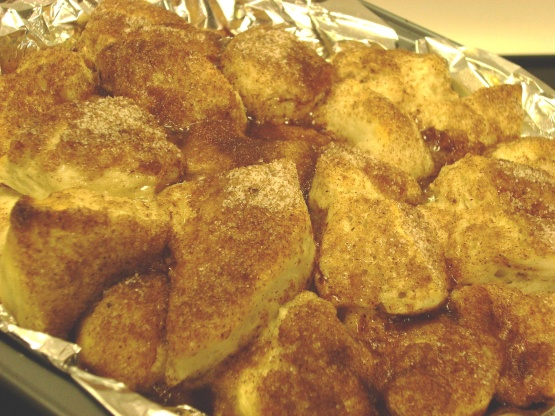 A light cinnamony puff that can really spice up your snack.

I used a whole can of rolls. It didn't say how much butter to use so I used two tablespoons. Even though I used a whole can of rolls I cut the sugar down to one tablespoon and I didn't measure the cinnamon, I just sprinkled it on. I did have to cook mine for 14 minutes. We all enjoyed these.
Preheat oven to 375°F.
Take Pillsbury roll and cut in fourths.
Place fourths of roll in 8x8-inch pan that is covered in foil.
Spread melted butter or shortening over rolls.
Make a mixture of brown sugar, sugar and cinnamon.
Sprinkle mixture over fourths.
Place in preheated oven for about 5-8 minutes till cinnamon is nice and black or a darker brown. Or whenever the fourths are crisp. (For more, get more rolls and double or even triple recipe).