I love cinnamon anything. This is one of my favorite pies and is really easy. You are sure to have all the ingredients in your kitchen too.
Directions
Preheat oven to 375 degrees.
Mix all ingredients together with a whisk. Batter will be slightly lumpy.
Pour into the shell and bake for 45 minutes or until set.
Most Helpful
I didn't like the way the pie started out all watery, I wasn't sure if it would set up properly. Then 3/4 of the way through the baking, I noticed that there was this gigantic bubble on one side of the pie. It never went down. Then when it was done baking I tested it with tooth picks and it was still very wet inside the middle where the bubble was. Not sure why that happened. When the pie cooled and I tried to cut it, it was so hard I thought I would never get through cutting the pie up for a slice. Needless to say I was not happy since I was wanting to bring this dessert for our office manager's last day. I am not sure at this point if I will try this recipe again. Melody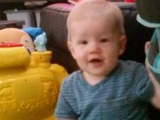 This pie has a custardy texture and is serious on the cinnamon. The cinnamon floats to the top and a light colored custard on the bottom makes it a 2 layer pie. I will make it again with whole milk just to experiment. Prebaking the crust would be a good idea.

What a unique & delicious dessert! I'd never heard of cinnamon pie before never mind made it. I was really concerned about the filling - it seemed really watery & I didn't think it was going to fit in my pie pan - but it did - just barely. I baked this for about an hour because I couldn't really tell if it was set or not. I wish I had remembered to take a photo as the pie ends up with 2 layers - a nice creamy custard layer & then a crunchy crust like top. I served with Cool Whip. Someone complained that you could taste the eggs but other than that - rave reviews all around.