CindiJ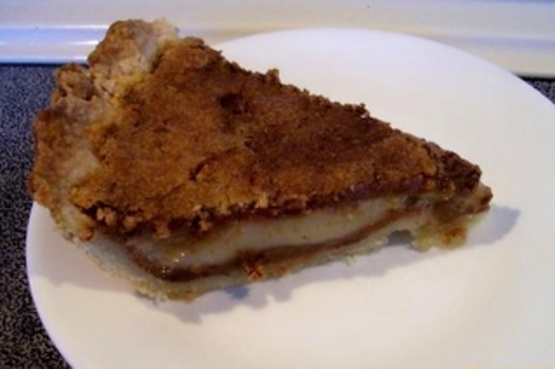 This is a favorite with all the men in our family. This was my great grand-mothers recipe that she made often. Simple to make - when cut you will see 3 different layer colors. *Note - due to several reviews I am updating to strongly suggest the following: You need to use at least a 9" deep dish pan for this recipe. A normal 9" will not work. This recipe does not set up if you halve it. The batter is very thin.

I'm having a hard time rating this recipe. I wasn't sure what to expect. I love cinnamon, so I wanted to give it a try. I don't think there could be an easier pie to make. I only used 1.5 cups of sugar. All in all I think it took less the 5 mins. to assemble. After giving it a good mix, I baked it for 45 mins and then covered it and baked another 7. I pulled it out of the oven even though it wasn't completely set and let it sit on the stove for about 10 mins. and then decided to set it bake in the cooling oven. I did get all three layers. As far as flavor and texture, it seems familiar to pumpkin pie. I guess like a cinnamon custard. What I think of when I think of an old fashioned pie. I also think this pie tastes much better the next day after its chilled. Thanks for sharing the recipe, it was fun to make.
Preheat oven to 375°F.
Mix first six ingredients together with wire whisk- batter will be slightly lumpy.
The batter is very thin.
Pour into unbaked 10" or 11" pie crust. If you do use a 9" make sure it is a deep dish. This fills the shell completely and this is normal.
Bake approximately 45 minutes or until set. If you see that it is not setting up properly, cover crust with foil or crust protector and bake an additional 10-15 minutes until set.
Let cool before cutting.