Bec6206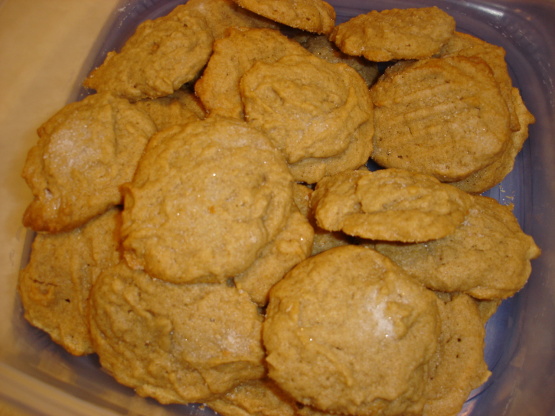 Peanut butter cookies with a touch of cinnamon- Yum! When I made these, I beat them by hand (not electric mixer) and since I made them a little bigger, making 32 cookies total, the cooking time was more like 12 to 14 minutes. Also, I sprinkled them with some sugar before baking. Enjoy!

Yum! I am a huge peanut butter fan. My mom and I really liked the cinnamon flavor. It was a different but delicious cookie!
Heat oven to 350 degrees- Have cookie sheets ready.
Mix flour, salt and cinnamon.
Put remaining ingredients into a large bowl.
Beat with electric mixer until well blended.
Gradually add flour mixture, beating just until blended.
Drop heaping teaspoonfuls 1 1/2 inches apart on to ungreased cookie sheet.
Bake 10 to 12 minutes just until lightly brown- Do not overbake.
Remove to wire rack to cool.