Cinnamon – Peanut Butter Brownies
MA HIKER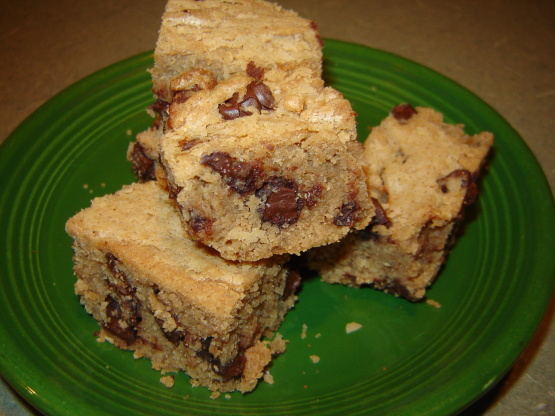 Just something I came up with one day in the kitchen. Very tasty and chewy. The aroma fills the entire house. Great straight out of the oven or after they have cooled.

These are great! good job making up a nice bar recipe. I was concerned that there was no baking soda or powder. But they were very nice. I added semi-sweet choc chips too. I love PB with dark chocolate! Only concern was what temperature to cook the bars at - it's not listed in recipe!
Combine sugar, cinnamon, melted butter, and eggs in bowl and mix together very well.
Stir in vanilla extract and peanut butter. Mix together until creamy.
Stir in flour until mixed well and all lumps are gone.
Pour mixture into buttered and floured 13 1/2 x 8 1/2 x 2" glass baking dish and spread mixture evenly to sides.
Bake for 30-35 minutes. Remove from oven, let cool for a few minutes, and cut into what ever dimensions you desire.