Rita1652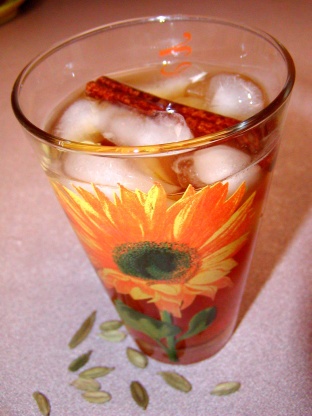 Another simple but scrumptious recipe from the October 2005 issue of the 'Australian Good Taste' magazine article featuring recipes using ouzo. This is a prepare ahead recipe: 5 minutes preparation, no cooking, then 2 hours chilling. The chilling time is not included in the preparation and cooking times below. The other two recipes using ouzo that I've posted from this article - for the 2005 Zaar World Tour - are Chocolate Bullets and Ouzo-Poached Cherries With Waffles.

I really liked this before the Ouzo was added. Then I added 1 tablespoon and it was still really good. When I added the second tablespoon, that was too much of the anise taste for my taste buds. I was never an anise fan. I'll make this again. Made for *Zaar Stars 2008* game
Place the cardamom pods, cinnamon stick, sugar and tea bags in a large heatproof jug, add the boiling water and stir until the sugar dissolves; set aside for 3 minutes to infuse; remove the teabag and discard.
Stir in the ouzo and place the tea in the fridge for 2 hours to chill.
To serve: Place the ice cubes in serving glasses and pour over the chilled tea.