Nif_H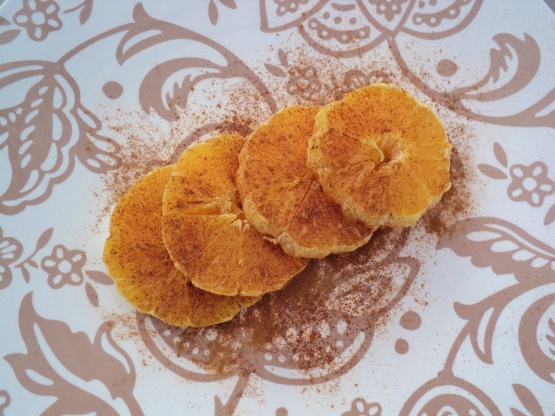 This is a very simple dessert that we discovered in Morocco. It was served in many restaurants for a light end to all kinds of meals and the combination of cinnamon and fruit is wonderful. The most important thing is to find lovely, sweet and juicy oranges. If you use pale, tasteless ones this recipe won't work at all.

WOW! I really love these cinnamon oranges. It's important to powder the cinnamon very fine in a mixer for this recipe. We(dad and me) had this at lunch this afternoon for dessert. I used Navel oranges, came out very sweet and "addictive" to be honest. The combo of cinnamon with these oranges went very well. Easy to fix, eggless, healthy and tasty - it's got everything you need and look for in a recipe - EXCELLENT DISCOVERY, Friedel;)!
Peel oranges, then slice crossways into rounds and arrange on a pretty plate.
Add a few apple slices, if desired.
Lightly dust with cinnamon and serve immediately.