Annacia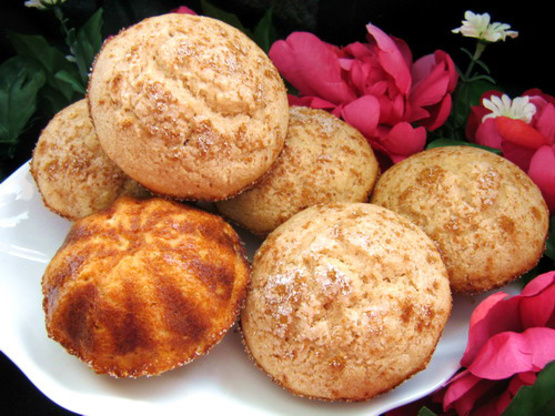 From the Betty Crocker website - I love this recipe because it is so easy to throw together. I like making them in both the mini size and regular size muffin tins. Great for breakfast or midday snack.

I used Recipe#55564 (which, since discovery, I always keep made and ready in a canister) for the biscuit mix. I made a half recipe which gave me 6 lovely full sized muffins for Sunday morning brekkie. I used a bit of dried blood orange peel, fat free milk and Splenda. My other concession to better health was to skip the butter dipping step and just sprinkle the tops with a bit of cinnamon and a light sprinkle of sugar (less than a tsp for all 6 muffins) before baking. They have a marvelous texture and are incredible with Recipe #189729!
Preheat oven to 400°F
Grease bottoms only of 24 miniature muffin cups or use cooking spray, or line with paper baking cups. (If using regular sized muffin tin, prepare 12 tins).
In medium bowl, stir baking mix, 1/4 cup sugar, the softened butter, milk, orange peel and egg until blended; beat vigorously with spoon 30 seconds.
Place batter evenly between prepared muffin cups.
Bake 12 minutes or until light golden brown. (Bake 20 minutes if using larger muffin tins).
In small bowl, stir together 2/3 cup sugar and the cinnamon. Immediately roll tops of muffins in melted butter, then in cinnamon-sugar mixture.
Serve warm if you can but they keep well in an air-tight container too.