Prep 20 mins
Cook 30 mins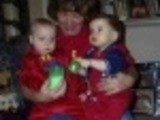 This recipe is great for breakfast on special occasions like slumber parties, Christmas morning, and a special send off when going back to college, etc ... It is always associated with fond memories at my house, both for the event and for the wonderful taste.
Directions
Mix the sugars and cinnamon in a bowl.
Cut the biscuits into fourths.
Roll in the sugar/cinnamon mixture.
Drop in a non-stick bundt pan.
Melt butter and remaining sugar/cinnamon mixture.
Pour over the biscuits.
Bake 30 minutes at 350 degrees.
Allow to cool 10 minute.
-turn onto a plate.
Most Helpful
Yum! Sorry I didn't review this last year. This is the second Christmas I've made this and everyone LOVES it! Perfect sweet item to add to the brunch menu.

Tis was a great recipe! My whole family loved it!
What an easy monkey bread. This was the best monkey bread I've ever had. This was so quick and easy it tasted even better.