Cinnamon Mocha Coffee from Taste of Home
diner524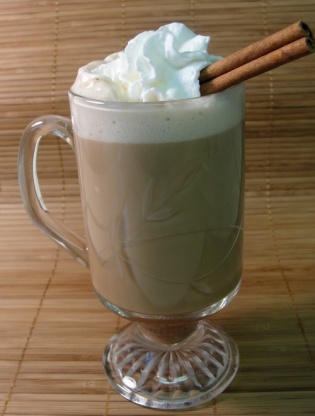 Using fresh brewed coffee and cocoa powder - not a syrup. From Taste of Home Cooking School notes.

Wow! This is delicious! You can't go wrong with coffee and chocolate in my book, but it is the cinnamon that takes it over the top in this one! I had it warm with brunch today, and it was smooth and spicy and perfect. I have a little saved that I am chilling, and I will try it cold over ice tomorrow.
In a coffeemaker basket - using a filter - combine the coffee grounds and ground cinnamon. Prepare 4 cups of coffee as directed on your coffee maker directions.
As coffee is brewing, in a medium saucepan, combine the milk, sugar, cocoa and vanilla and cook over medium-low heat, stirring occasionally, for 5-7 minutes (till small bubbles appear on the sides of the pan) - DO NOT BOIL.
Pour the hot milk mixture into four coffee cups/mugs, then add the cinnamon brewed coffee.
Optional, garnish with cinnamon sticks and a dollop of whipped cream.