Redsie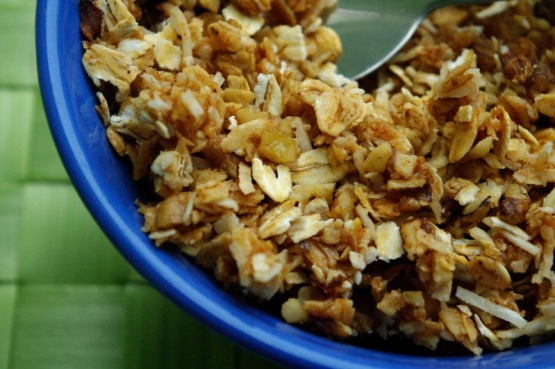 From Taste of Home. I would at least double this recipe!! ;)

Delicious! I made one triple-batch with pecans and walnuts and one with just pecans, and I preferred the just pecans one. This was SO easy to make! Definitely does NOT make clusters, just nice crunchy granola for cereal or for topping things (also a delicious snack). Will definitely make again! We're giving these batches away as gifts.
Combine oats, walnuts and coconut in a greased 13-in. 9-in. x 2-in. baking pan; set aside.
In a saucepan over medium heat, combine syrups and cinnamon; bring to a boil. Cook and stir for 1 minute. Remove from the heat; stir in vanilla. Pour over oat mixture and toss to coat.
Bake at 275 degrees F for 30-40 minutes or until golden brown, stirring every 10 minutes. Cool, stirring occasionally.
Store in an airtight container.