Cinnamon Hazelnut Layered Coffee Cake
Annacia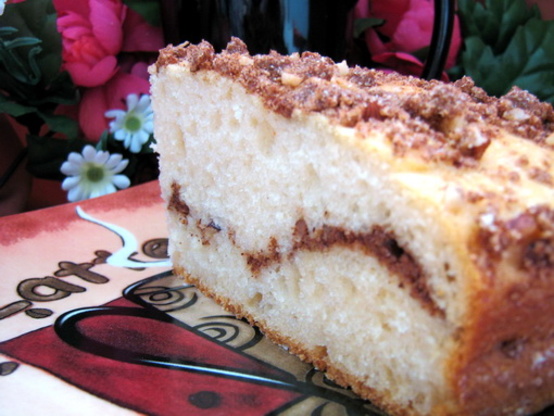 Yumm, whats not to like...An old family favorite. My mil's tasty coffee cake made with cinnamon and hazelnuts. This is a great snack when coming in from the cold. Perfect when served warm with whipped cream or ice cream.

Excellent coffee cake. Loved the combination of cinnamon and hazelnut. I only made half of the recipe as it is difficult to convert standard recipes to gluten free when there are more than two cups of flour (they don't always turn out right). Will definitely make this again as it made for a nice Sunday morning breakfast. Thanks for posting this BK! Made for Went to Market Tag.
Preheat oven to 350 degrees.
Greased and flour a 13 x 9 x 2-inch baking pan, set aside.
Next make the topping, by melting the butter and adding the brown sugar, flour, cinnamon and hazelnuts together.
Make sure to mix well, set aside until needed.
You will use this topping to sprinkle between the batter layers, don't forget to save some for the top.
Next cream the butter and sugar together, add the eggs and beat well.
Mix milk and vanilla extract together.
Sift the dry ingredients together, then add alternately with the milk and vanilla mixture.
Pour half the batter into a greased and floured 13 x 9 x 2-inch baking pan.
Sprinkle half the topping mixture over the batter.
Add the remaining batter and top with the remaining topping mix.
Bake in 350 degrees for 25 - 30 minutes or until a toothpick inserted in center comes out clean.
Enjoy with a big pot of hot tea.