Cinnamon Hazelnut Cream Coffee
Annacia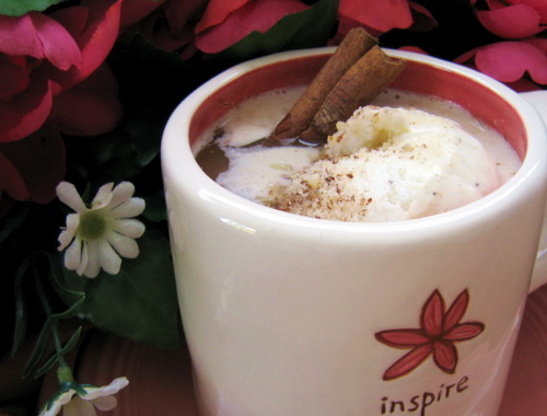 This is for my friend Anna, it is sooo good, she is going to love it. If you like cinnamon hazlenut coffee you are going to love this smooth, creamy drink.

BK This is FABULOUS! I do have 1 problem with it though. It goes down to easy. WOW. Followed your directions exactly and will do so many times. For the 4th we had a group hanging out on our cottage porch and I served to those above age 21. Needless to say made for 10 adults and some do not like coffee but did ask for this recipe. Of course I passed it out after frantic copies made. (no printer here) Again, this is great and I bet just as good without the spirits. Made for Comfort Cafe summer 2009. Thanks Connie
1.23

ml cinnamon, ground

0.59

ml nutmeg, ground

0.59

ml clove, ground

473.18

ml brewed brewed cinnamon hazelnut coffee, strong, fresh brewed

56.69

g hazelnut-flavored liqueur, Frangelica

29.58

ml brown sugar, dark

2

scoop vanilla ice cream, vanilla bean, large

19.71

ml hazelnuts, ground, garnish

2

cinnamon sticks, garnish
Brew the cinnamon hazlenut coffee with cinnamon, nutmeg and cloves.
Pour the spiced coffee into mugs and add the the brown sugar and Frangelica.
Top the coffee with the ice cream and sprinkle on the ground hazelnuts.
Add a cinnamon stick for stirring.