Juju Bee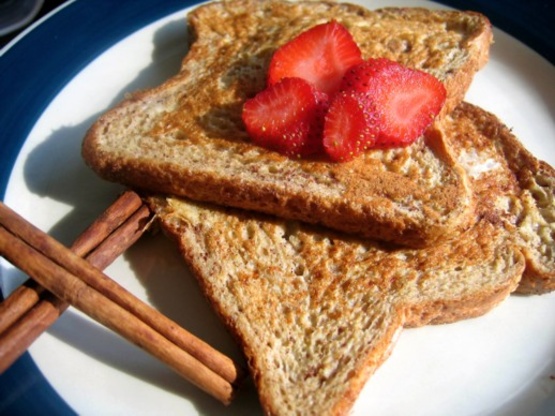 This was quite delicious, but if you are going to fry it, then you need to put something in the pan, butter if you are not watching calories, so that it doesn't stick. This may seem obvious to the more experienced cooks out there, but this was the first time I had made French toast. Very delicious though, and we will definitely make it again. We topped ours with some fresh strawberries, yummm.
In a bowl, whisk egg and egg whites until foamy.
Add the milk, vanilla, cinnamon and nutmeg.
Combine and set aside. Preheat oven to 200°F.
Lightly spray a nonstick skillet with vegetable cooking spray. Heat over medium hat.
Dip 4 bread slices into egg mixture, turning to coat. Place bread slices in prepared skillet. Cook until golden brown, turning once.
Transfer cooked slices to a plate and keep warm in oven.
Dip remaining slices in egg mixture, cook as above. Divide toast among serving plates.
Sprinkle lightly with cinnamon sugar and top with maple syrup. Serve immediately.
Variation: For puffy French toast, prapre egg mixture in a large shallow glass dish.
Add bread slices, turning to coat. Cover and referigerate overnight. Cook and serve as above.