Cinnamon Crisps Cookies [snickerdoodles]
fawn512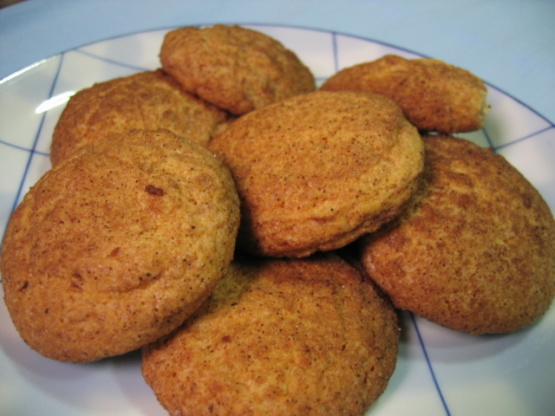 This is a European version of the snickerdoodle. This cookie has the softest dough and makes a bakery-style cookie that will impress you. (Recipe from Chef Express: Home Baking translated cookbook) Tip: You can make caster sugar by putting granulated sugar in your blender and pulse for about 1-2 minutes. The sugar should be reduced to half. It doesn't take long.. be careful not to turn it into sugar powder. However, most supermarkets do carry 10X sugar aka SuperFine sugar.

My 8 yearoldloves anything having to do with cinnamon so I made these for an after school treat and he loved them.I used superfine sugar that I bought at the grocery store - worked just fine.Thanks for a great recipe.
Place butter and 3/4 cup of sugar in a bowl and beat until light and fluffy. Add egg and beat well.
Sift together flour, baking powder, baking soda. Now, stir into butter mixture.
Turn dough onto a lightly floured surface and knead briefly. Wrap in plastic food wrap and refrigerate for 30 minutes or until firm.
Place cinnamon and remaining 1/4 cup of sugar in a small bowl and mix to combine. Roll dough into small balls, then roll balls in sugar/cinnamon mixture.
Place 2 inches apart on lightly greased baking trays and bake at 350 degrees for 4-8 minutes or until golden.
Remove to wire racks to cool.