Juju Bee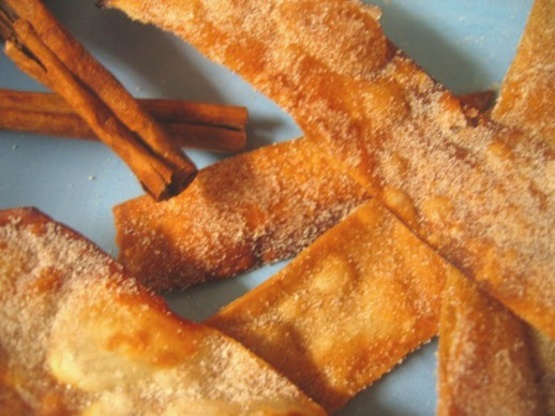 Crunchy cinnamon-sugar snacks like my girls love to get at Taco Bell...yummy for snacks, dessert, slumber parties, football parties, or 'just cause.' Great with Mexican Hot Chocolate! :o)

I had some leftover tortillas and stumbled upon this recipe. i just cut them to strips and dumped them in the deep fryer. they don't take long to crisp and brown so keep an eye on them. I like mine sweet so i put a cinnamon sugar mixture in a bowl, put the crispas in, and shook it up to coat them well.
Combine cinnamon and sugar; set aside.
Pour oil 2" deep in medium skillet; heat to 375.
Cut each tortilla into 8 strips, each approx 1" wide.
Fry 3-5 strips at a time until golden brown and crisp, turning once.
Remove and drain on paper towels.
Sprinkle with cinnamon mix while still warm.
Serve immediately.