Cinnamon Cream Cheese Roll-Ups
PandyW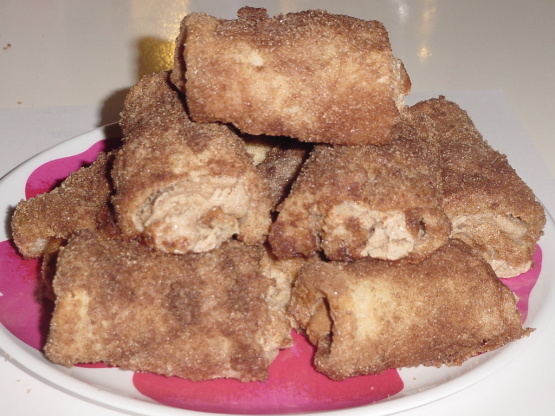 I found these in a magazine, and just had to try them. They are really different and very good! The kids were wild about these. Try adding a dab of pineapple, or apricot jam.

Top Review by Chloe5
This is a wonderful recipe! I made these for a school project and they were VERY easy and fun to make- and best of all- everyone loved them! Needless to say, I got an A on the project. I used a little less than 1 T of the cream cheese mixture on each of the rolls, making them a little easier to handle. Even my 18-month old niece loved them! This recipe is a delicious, simple treat!
Flatten bread with a rolling pin.
Mix cream cheese, egg yolk, and powdered sugar.
Combine sugar and cinnamon; set aside.
Spread 1 T cheese mixture on each slice bread.
Roll up.
Dip in melted butter, then in cinnamon sugar.
Place on ungreased baking sheet.
Bake at 350°F for 20 minutes, or until golden.