Cinnamon Cornbread Cobbler
KateL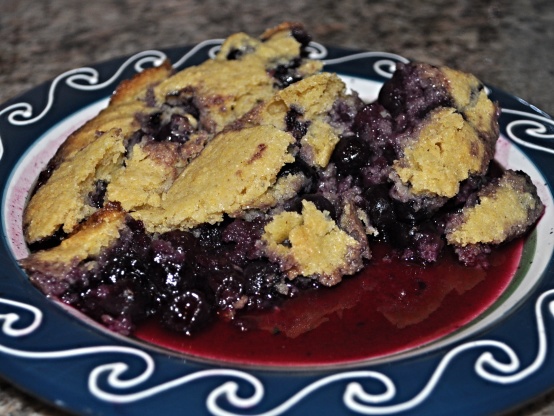 A different dessert! Great for one of the most healthful fruits!

Top Review by KateL
As simple as a blueberry cobbler could be! Blueberries are not in season, so I used thawed and drained frozen blueberries. As a result, my cobbler was runny. As I was making this cobbler, I noticed that no oven temperature was specified, so I used the average 350F setting. Once it was in the oven, I found the recipe (originally published in Fine Cooking) which specified an oven setting of 375F; obviously this should be added to the directions. This cobbler begged for ice cream. I found myself desiring a gooier texture as if I had added pectin. Also, this recipe actually serves 12, not 8. Made for Spring 2014 Pick A Chef.
Spray with Pam or the equivalent.
Filling: Toss the blueberries with the 1/2 cup sugar or more and lemon juice. Pour into a 13X9 inch oval baking dish.
Topping: Combine the cornmeal, flour, 1/2 cup sugar, baking powder, cinnamon, and salt in a mixing bowl. Make a well in the center and pour in the buttermilk, melted butter, and beaten egg. Stir with a wooden spoon to blend and then mix with a fork only until the batter comes together.
Drop the batter by spoonfuls on top of the blueberries in the pan. Bake the cobbler for 40 to 45 minutes or until the filling is bubbly and the topping is firm.