miss c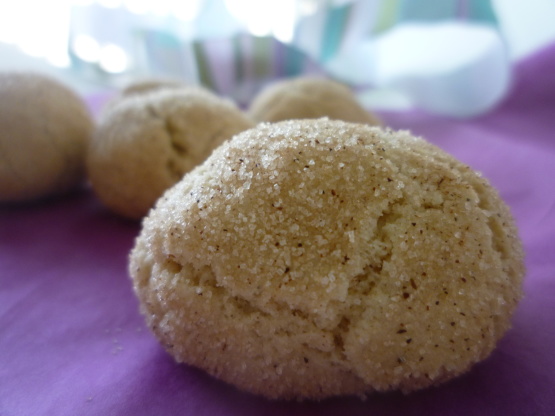 These are one of the best cookies I have ever eaten. They make up easily, and they disappear fast. I make these every year when we put up our Christmas Tree. I serve them with hot Cocoa while we decorate our tree. I swear the cookies are anticipated as much as the tree!

Top Review by nomnom
I used egg beaters and reduced-fat margarine. It still turned out great. Because of the lower-fat, higher-water content, the cookies puffed - so we had Cinnamon PUFFS! Yum! I rolled them in cinnamon sugar and the whole downstairs smelled wonderful while these gems were baking. They tasted good out of the oven and after a few days too! They reminded me of Dunkin' Donuts' donut holes - except not as greasy, sticky, caloric, or fattening. EVEN BETTER! THe way I made it, the calories: 24; fat grams: .86
In a mixer bowl, cream together sugar and butter; beat in egg and vanilla.
Combine flour, cinnamon, baking powder and salt.
Add to butter mixture.
Blend well.
Cover and refrigerate 2 hours or till firm enough to roll into balls.
Shape dough into small balls about 3/4-inch in diameter.
Roll in cinnamon sugar to coat.
Set cookies 1-inch apart on lightly greased cookie sheets.
Bake at 350° for 10 minutes or till the edges are lightly browned.
Cool slightly on pans, then remove to racks to cool completely.