Khaduja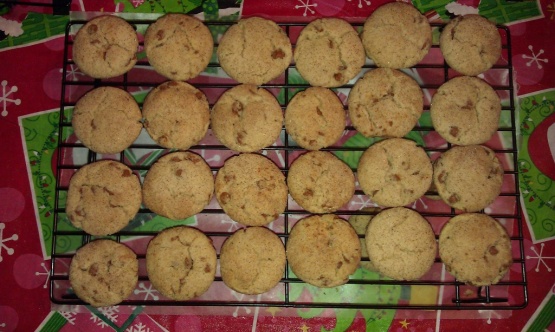 Only makes 16--believe me, it won't be enough. They are kind of like a snickerdoodle, only better--I think with the addition of cinnamon chips. They are great for the times you do not want a lot of cookies laying around to tempt you...

I made a very happy mistake with my first batch and added the teaspoon of ground cinnamon to the dough. Before realizing that it was meant for the cinnamon & sugar mix to roll the little dough balls in before putting on the baking sheets. My second batch I used unsalted butter and left the cinnamon out of the dough. Either way, they are delicious!!
Preheat oven to 375°F.
If using dark or nonstick pans, only preheat to 350°F.
Beat 1 1/2 cups sugar, butter, vanilla and eggs in large bowl, with mixer on medium speed till creamy.
Stir in flour, cream of tartar, baking soda and salt. Stir in cinnamon chips and pecans.
Mix 2 tbs sugar and the cinnamon in a small bowl.
Shape dough by 1/4 cupfuls into balls.
Roll in sugar/cinnamon mixture and then place balls 3 inches apart on ungreased cookie sheet--do not flatten.
Bake 13-17 minutes or until they appear "set" or light brown.
Immediately remove them from sheet to rack to cool completely.