Annacia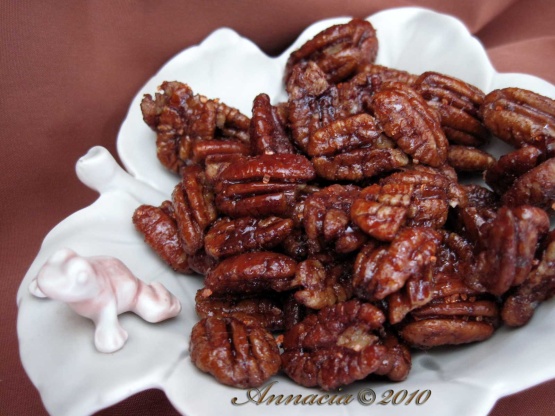 These sugar-crusted nuts, accented with coffee flavor, make a great gift.

A crowd pleaser all the way! I made it for a Christmas get together and while the boys watched football they killed half the bowl (I made double the recipe with both pecans and walnuts). Very simple and was a delicious addition to morning yogurt and a friend ended up topping her cheesecake with it. I wish I had caramel sauce for her because it would've been fab. Definitely a keeper :)
Spread pecans in an ungreased roasting pan or 15x10-inch jelly roll pan.
Bake at 350 for 10 minutes, stirring after 5 minutes.
Combine sugar and remaining 4 ingredients in a saucepan.
Cook over medium-low heat until sugar and coffee dissolve, stirring often.
Add pecans, and cook 3 minutes, stirring constantly.
Remove from heat.
Spread pecans in ungreased pan.
Bake at 300 for 15 minutes, stirring every 5 minutes.
Cool completely; store in an airtight container.