Cinnamon Coffee Cocoa Mix in a Jar
Linky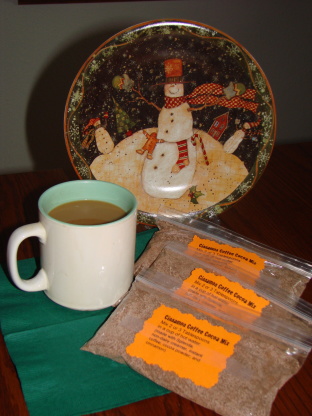 really good with marshmallow fluff...divide as you see fit! for gifts

Top Review by Linky
DH and I thought the flavor was very good although a little strong. I only used 2 Tb. per cup and added some half & half to tone it down. I used Splenda instead of sugar, but that shouldn't have changed the intensity of the cocoa. I'll try another batch with more creamer and see what happens! Thanks, grandma 2969!
Combine all ingredients and pour into an airtight jar.
Instructions for gift giving.
CINNAMON COFFEE COCOA.
1 cup hot water.
2-3 tablespoons cinnamon coffee cocoa mix.
stir well and enjoy!
Please use within 6 months -- .