Cinnamon-Chocolate Chip Ice-Cream Balls
hepcat1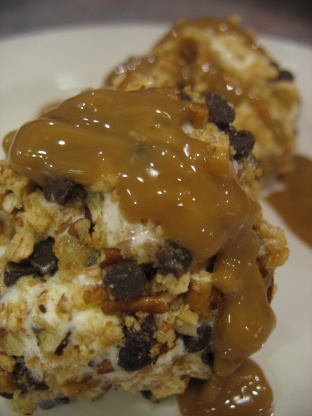 These are very easy to make and I love the taste. I prefer them with the pecans as they're a bit less sweet, but I do love them either way. They make a nice presentation with just a small amount of caramel drizzled over the top with a dollop of fresh whipped cream on the side. I never worry if I can't make a perfect ball; when I roll them in the cereal mixture they become easier to shape.
1 1⁄2 cups Cinnamon Toast Crunch cereal, crushed
1⁄2 cup miniature semisweet chocolate chips

1

cup finely chopped pecans (optional)
1⁄2 gallon ice cream
caramel syrup
Combine crushed cereal, morsels, and, if desired, pecans in a large bowl.
Scoop out ice cream, and shape into 6 (3-inch) balls.
Roll balls in cereal mixture, coating evenly. Place in a 9-inch square pan; freeze 2 hours or until firm. Drizzle with caramel syrup before serving.