Debbwl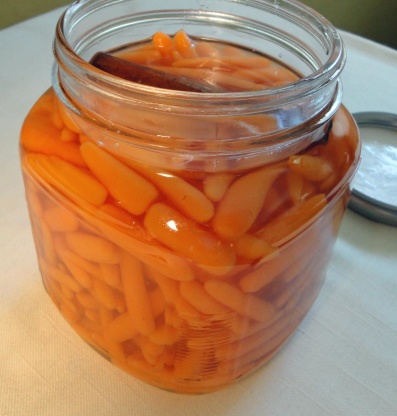 This recipe comes from Sunset Ideas for Cooking Vegetables, 1973, & the carrots can be served as a side, a relish or an appetizer! Preparation time does not include time needed to cool before serving.

Top Review by Debbwl
What a tasty snack! Made these tasty carrots for Easter weekend but just could not hold out and had to try them this evening and all I can say is yum. Made using tiny petti carrots and cook till just starting to get tender as want them to have a little tooth to them. The only change I made was to use splenda for baking, cannot wait till the weekend to snack on these tasty little treats again. You know this is going into the keeper file. Thanks for the post.
Place carrots in large pan with water & boil, covered, until just tender, about 7-10 minutes.
Remove carrots to a bowl & keep the liquid in the large pan.
To the carrot liquid add cider vinegar, sugar & cinnamon, then bring to boil.
Pour hot liquid over carrots & let cool.
Cover & chill overnight or as long as 2 1/2 weeks, before serving.