3 Reviews
My family couldn't taste the difference and thought it was pumpkin pie! Thanks for the great recipe!
I tried this with much trepidation but my family actually liked it BETTER than pumpkin. All through the year they talk about that great fake pumpkin pie I made. And look forward to it every Thanksgiving.

Really, really tasty! My whole family at this up and raved about it. If you are fan of pumpkin or sweet potato pie - this is your kind of pie. The only thing I might do differently next time is puree my carrots to make them 100% smooth but that's such a minor thing. The directions and ingredients are perfect and the pie is wonderfully tasty - and a great way to use up an abundance of carrots! Thanks for sharing Raquel.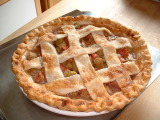 Cinnamon-Carrot Pie