Annacia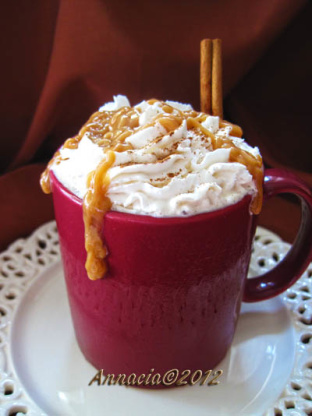 This is a tasty, tasty coffee. I love iced coffees and this is one of my favorites...caramel and cinnamon together with coffee...it doesn't get much better than this, topped off with a flavored whipped cream, delish.

Yowzers, I can't imagine why it's taken me so long to make this, I've been missing out for waaaay to long. I had to adapt this liquid wonder to diabetic restraints. Used Smuckers no added sugar caramel sauce (after waiting 2 weeks for the store to get it!) and Cool Whip light for the heavy cream. I sprinkled cinnamon on the top and then a good "drizzle" of the caramel. Oh Yeah! almost forgot, I used Van Houte Butterscotch coffee. Total 5 start YUM!
8

ounces cold strong brewed coffee, cinnamon, cold, strong, brewed
1⁄8-1⁄4 cup caramel sauce (to taste)
1⁄4 cup 1% low-fat milk, 1%, cold

4

ice cubes, plain

4

coffee ice cubes, coffee

3

ounces heavy cream (whipping cream)
1⁄4 teaspoon cinnamon

1

teaspoon caramel sauce

1

teaspoon caramel sauce (garnish, for drizzling)

1

cinnamon stick, for stirring
Make the cinnamon flavored coffee.
Pour the hot coffee into a container, add the caramel sauce and stir until all the sauce has dissolved.
Next add the milk to the coffee mixture, stir, cover and place in fridge to chill.
Whip the heavy cream, cinnamon and caramel sauce together, until the cream is smooth, thick and creamy.
Cover and chill until needed.
Once the coffee is thoroughly chilled pour it into a large frosted glass filled with the flavored and plain ices.
Top with the flavored whipped cream , drizzle a little caramel sauce over cream and add a cinnamon stick for stirring.
Enjoy, enjoy, enjoy.