Cinnamon Buttered Dates, Al Rangina from Qatar
UmmBinat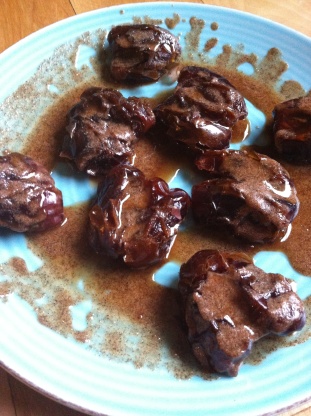 Dates are one of the major foods grown in Qatar. In this adaptation, the flavors combine into a simple and straightforward treat – something for everyday living. From: Global Table Adventure

I realized I've made a similar recipe found on the food.com site. I infused the cinnamon<br/>with the butter and reduced the flour to make the sauce more pourable. If you use<br/>the full amount of flour it makes the sauce taste too grainy in my opinion. I tested with medjool dates. For color when taking the photo, I added a light garnish of fresh orange zest. Easy, pretty and delicious! Thanks for posting the recipe. Made for Welcome to Qatar!
Arrange the dates on a pretty plate.
Melt the butter and whisk in the flour and cinnamon and cook for a few minutes until thickened into a gravy like sauce (whisk constantly).
Now, spoon the buttery cinnamon mixture over and around the dates.
Let the warm sauce cool to room temperature, then dust like crazy with as much powdered sugar as you can stand.