Zaney1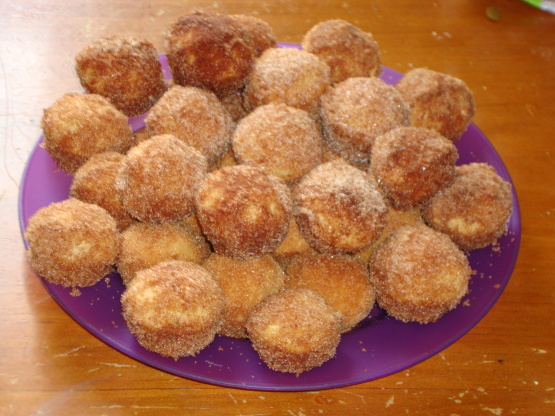 These are *so* good! they may be made in to baby Butter Puffs by using mini muffin tins and reducing the baking time --- I sometimes add in 1/2 teaspoon cinnamon to the batter :)

Top Review by Zaney1
These were just great. I made them into mins. I got 27 minis out of a batch. I baked them for 15 minutes. I also used butter instead of Crisco b/c I never have crisco on hand. I did have to increase the cinnamon sugar mixture in order to cover all of the puffs. I rolled each mini puff completely in the butter and then rolled the whole thing in the cinnamon sugar. They are the best when they are fresh but they are still edible the next day. They taste like little cinnamon sugar cake doughnut holes.
Set oven to 350 degrees F.
In a small bowl combine 1/2 cup sugar with 1 teaspoon cinnamon; set aside.
Place 1/2 cup melted butter in another bowl; set aside.
Grease 10 regular-size muffin cups.
In a medium bowl, beat shortening, sugar, egg and vanilla until smooth.
Sift flour, baking powder, salt and nutmeg.
Add flour mixture to the shortening mixture (stir in a little at a time).
Pour in the milk; beat until blended and smooth.
Fill tins 2/3 full.
Bake for 20-25 minutes or until lightly golden.
As soon as they are done, dip them one by one firstly into the melted butter, then roll them in the cinnamon-sugar mixture.