Pumpkie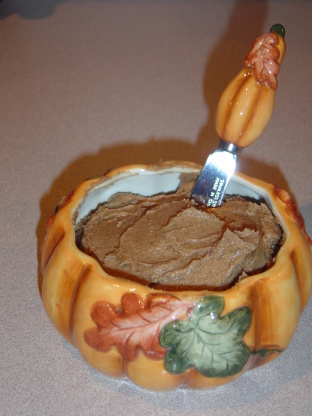 I found this "clone" recipe at recipegoldmine.com. It is very similar to the cinnamon butter served at Texas Roadhouse restaurants in Dallas. They bring it to you to serve on their in house dinner rolls. (Please see recipe I posted for these rolls (Texas Roadhouse Buttery Dinner Rolls), just recently. I love how easy this is to mix up and serve, probably with ingredients you already have on hand. Cook time is prep. time.

This was a hit at last night's Christmas dinner. It does go great with rolls of all kind but my favorite combo is with yeast rolls. For anyone wondering about the oz conversion, I used 1/4 cup of brown and 1/4 cup of granulated sugars and the recipe amounts of butter and cinnamon.
Mix and beat all ingredients listed, together, until smooth.
Cover and refrigerate over night.