CoffeeB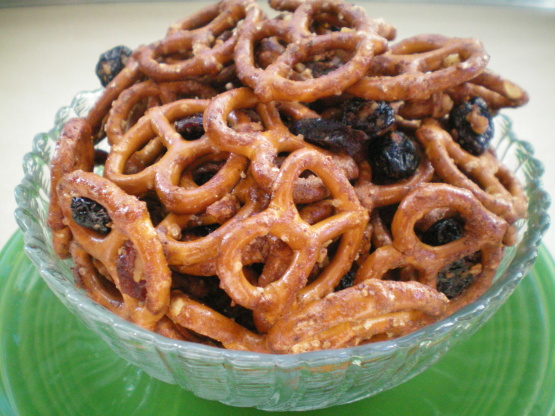 Awesome snack mix that tastes like a cinnamon bun!! Great for on-the-go or even gift giving. Plus, its a snap to prepare - so good, you'll wish you made a double batch!

I can't say how pleased I was to find and make this for some of my Christmas treats! Wonderful and flavorful, this is super simple to throw together. I used liquid egg whites (3 tbsp. per recipe) and followed another reviewer's suggestion to use a large bowl and my hands! ;-) I made 4 batches and snacked on this myself - it does taste like cinnamon buns! Thanks so much for sharing, Brooke the Cook in WI!
Preheat oven to 275 and prepare baking sheet with sides - I line mine with parchment paper and spray with cooking spray to prevent sticking.
Combine brown sugar and ground cinnamon, set aside.
Whisk egg white in large bowl.
Add dried cranberries and nuts, stir.
Add miniature pretzels.
Sprinkle with brown sugar mix and gently fold until combined, careful not to crush the pretzels.
Spread onto prepared baking sheet.
Bake for 45 minutes, stirring every 15 minutes. Watch carefully, oven temperatures vary and they aren't so good burnt!
Remove from oven and stir, evenly distributing nuts and berries. Spread in a single layer to cool on parchment paper. Cool completely or they will be soft/soggy - they firm as they cool. Store in covered containers.